Sponsored by the Welsh Assembly, Monmouthshire elearning has been exploring distance learning to allow less popular subjects to be studied by combinations of schools. Opus Pro was a key part of the solution.
Digital Workshop worked with consultant and teacher, Nick Collins, to develop a range of templates for content, tests and even assessment which could then be easily populated by teachers. These were then provided as the default material within a special installation of Opus to make life even easier for the staff.
Question types included diagrams, drag and drop and even long answer questions. All activity was stored in a summary which could then be printed for the student records and was also emailed to the teacher if required. the template was designed to be SCORM-conformant to allow use in Monmouth Comprehensive School's moodle system. These questions and the assessment solutions supporting them went on to become the foundation for the Question Object and our new Auto-scoring and Assessment functions.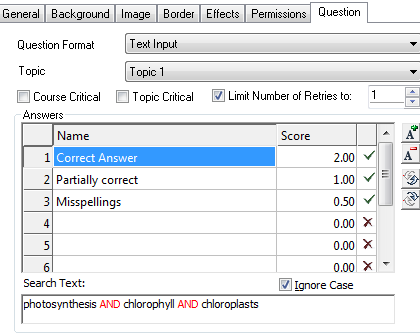 The power of Opus Pro meant complex evaluations and assessment was possible but the flexibiltiy meant the hard work is being done automatically behind the scenes and teachers only need provide the content.
Where your solution requires particular sets of templates Digital Workshop can provide a dedicated version of Opus Pro ensures the program does exactly what you need.