Simply Sudoku
Opus Pro

A simple version of this popular puzzle game including 30 starter puzzles presented in random order.
Requires Opus Pro. Suitable for output to HTML5 as well as Windows.
Trivia Ten - HTML5 Quiz
Opus Pro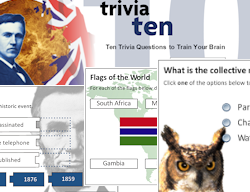 A quiz publication to illustrate some of the different types of question interactions you can provide in Opus Pro - using sliders, shuffle list or text input as well as the more usual drag-and-drop or multiple choice.
Installed free with Opus Pro as an example to explore and adapt or download the latest files from here.
Science of Plants - Curriculum Revision Quiz
Opus Pro

A simple quiz to revise the names and basic information on the science of plants for 11-14 year olds (KS3 science). Covers plant cell and structure and plant nutrition and photosynthesis Made with Opus Pro using the Question object and illustrates the use of Topics to track performance on specific areas in a single quiz.
These publications highlight just some of the features in Opus Pro and Opus Creator and how easily interactive multimedia resources can be designed and published and distributed as standalone EXE files, Flash, HTML5 (with or without SCORM) or even video formats.
Disclaimer
Whilst Digital Workshop makes every effort to ensure these files are virus free, we strongly recommend that you run a virus check over the files before running them. These programs are provided as is. You use them at your own risk and in no event will Digital Workshop accept liability or be held responsible for any damage, disruption and or data loss as a result of using them.
Free samples of HTML5, Flash and Elearning applications developed with Opus Pro and Opus Creator