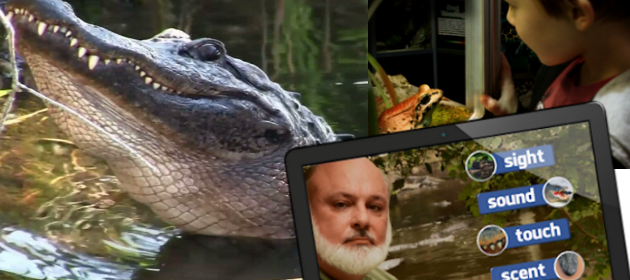 Peeling Productions is an exhibition and events company specialising in world class living exhibits, interactive kiosks and educational video courses, often featuring the creatures of Reptiland.
The HTML5 options in Opus Pro lets them create interactive material from their video by letting them add menus, hotspots and other interactive elements and then publish to Android tablets and Android-based kiosks. The Digital Workshop QuickStart service got them productive quickly by designing a dedicated template publication with the key custom features built in.
"We spent a good deal of time searching for a solution to create full-screen interactive video content for tablet computers in our museum kiosk exhibits. Using tablets in this way typically requires custom coding to make the many components (video files, HTML5, CSS, Java) work seamlessly. Most WYSIWYG software designed for this is subscription-based with significant recurring expenses for authoring and playback. The low cost of Opus Pro offers a financially sensible alternative - just buy the authoring software, period.

Our project required some special tweaks and the consultants at Digital Workshop designed a working custom template quickly and at reasonable cost. We are now able to create and deploy complex interactive media using the Opus template. "

Chad Peeling,
CEO, Peeling Productions
visit website
Create Android Apps the Easy Way
Developing material for Android would normally require expensive development time but with Opus Pro you can create a whole range of material as easily as you would a Powerpoint presentation but with much more functionality.
How It Works
View the feature on Interactive Video to see how we simply overlaid Opus objects on the video page to create this example. For the more sophsiticated aspects we used the Javascript Action in Opus Pro - further details.