This stylish interactive brochure combines lifestyle promotion and full specifications of apartments and prices in a comprehensive sales tool for the promotional suite of the Highcross development.
Highcross was a major redevelopment of Leicester city centre by heavyweight property developers Hammerson and Hermes. The development included several apartment blocks in different styles in diverse locations.
Digital Workshop worked with advertising agency Rees Bradley Hepburn to create this exceptional example of interactive sales literature combined with a practical database application. A fast-paced slideshow with a modern soundtrack introduces a comprehensive collection of pages covering all aspects of the Highcross development. Menus provide access to a wider range of sales information than a printed brochure could provide.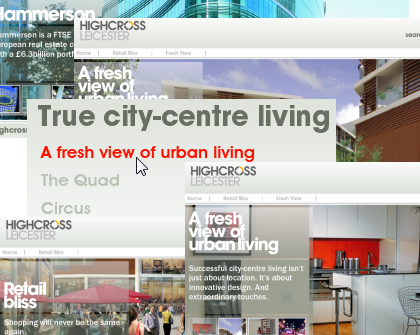 Interested buyers could be taken on a tour of all the benefits the development would enjoy before they were complete, as well as reviewing the style and location of the various apartment blocks using the architect's models and rendered images of the inside of the apartments.
A search facility was available to find specific properties and prices. The search was connected to a simple Excel spreadsheet of prices and availability allowing the sales staff on site to update the brochure in real time!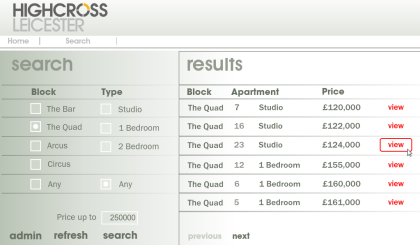 Clicking the View link would provide even further details such as the floorplan, facilities and fittings.

Installed on a low-cost PC in the promotional suite and displayed on a large flat screen TV the promotional portion could be set to loop until buyers wanted to review particular elements. At a time when many construction projects faltered in difficult economic conditions Highcross was the profitable exception.
When you need a comprehensive solution Opus Pro offers the flexibility to deliver innovative sales and promotional materials more cost-effectively.