Develop Your Own LMS Easily
Opus CoursePlay provides everything you need to create an engaging, graphical, SCORM-conformant learning management system the easy way.
Includes templates for a graphical user interface to login, access course and progress reports, plus all the database setup files, the php scripting and a SCORM Player compatible with SCORM content from any authoring tool. Used in combination with Opus Pro it's a WYSiWYG LMS authoring tool which lets you design an engaging and graphical user interface for your SCORM courses.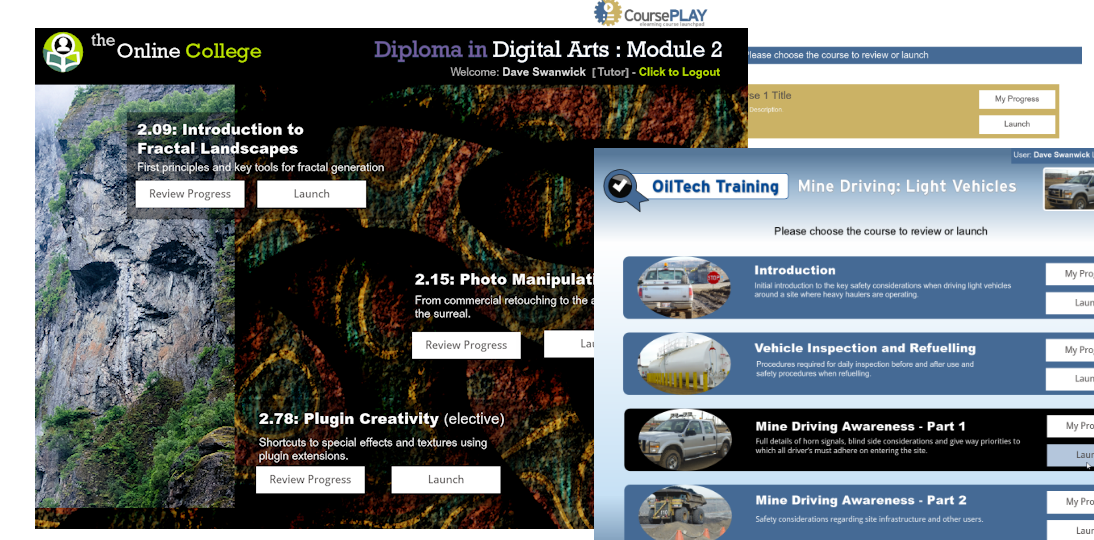 Build a Courseplay LMS for your own use or to licence to clients, for unlimited users for a one time fee - no head count, no subscription, no recurring costs.
Get Started Easily
Simple to install and set up, Courseplay provides all the key elements and none of the complications of unecessary additional items. Includes all the scripts you need, with a ready-made database and key features built in. Provided with full instructions to install and licence your own graphical LMS, including different user levels and reports.
Get Productive Today - Be Prepared for Tomorrow
Intuitive graphical design makes CoursePlay easy to use for you and your learners. It can be customised easily to your exact requirements and it's fully-extendable if required.
Freestyle Design and Layout
CoursePlay is designed to let you use Opus Pro to lay out your course interface in an intuitive, graphical way making it easier and more appealing for you and your learners. Simple templates are provided for user sign up and login pages, together with pages for course content, including video training courses and a course/module menu, all of which you can then edit and extend as you wish.
Fully Extendable
CoursePlay is designed to be extended as and when you need it. Develop your own extensions in Opus Pro or using Html5, php and javascript.
If you don't have the time or the skills, our developers can add features or build custom elements for very modest costs via our ProSolve service.
Features
Supports SCORM v1.2 Standard
Customisable Graphical Course Menu
SCORM Course Uploader
Custom User Levels
User Admin Interface
Secure User Registration Process
Key Reports on User Progress
Now includes Video SCORM Video player
Benefits
Simple and Intuitive
Clean and Engaging Interface for Users
Unlimited users for one fee
No recurring costs, royalties or subscriptions
Ready-made Database
Minimal Setup Required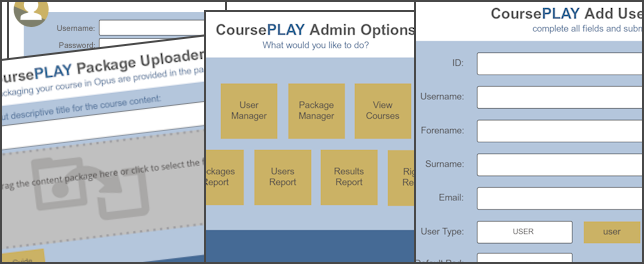 Everything You Need
CoursePlay includes all the scripts and resources for a basic LMS with minimal setup.
Database Included
We've included a pre-built MySQL database to store your user details and their records ready to use in your HR processes. Simply import the .sql file provided into your MySQL installation or get your hosting provider to do it for you.
Secure User Registration
User registration includes built-in email confirmation and passwords are secured using industry-standard encryption.
Use any SCORM Content
CoursePlay will import any SCORM v1.2 course content so you can include courses created with any elearning tool not just Opus Pro.
Opus Pro Benefits
On the other hand, developing your course content with Opus Pro offers key workflow and productivity advantages for instructional designers.
Auto-Scoring Question Objects
The question object offers flexible test solutions quickly and easily without restricting you to a particular look and feel. A whole range of scoring metrics are calculated automatically even with custom free-form questions.
Creating Questions
Extended Elearning
The sophisticated elearning features in Opus Pro allow extended interactions including simulations and are not limited by preset templates and interactions.
SCORM Elearning
We can even add dedicated solutions to Opus Pro to match your exact requirements and get projects started or sorted more quickly. See our QuickStart and ProSolve services for more details.
Requires Opus Pro
CoursePlay interface elements are designed to be customised using Opus Pro, whilst it is possible to edit the HTML5 elements by hand we do not recommend it.
Important Licence Information
Each instance of CoursePlay is locked to a specific URL which you register during the setup process. You can use any number of courses and any number of users in a single CoursePlay LMS but if you want to create more than one LMS on different domains or licence it to clients, then you'll need an additional URL licence for each one.