Explore a basic Opus CoursePlay installation and the functionality you can work with in creating your own custom graphical elearning management system.
Try the Demo Now
Limitations
This demo does not allow you to add new course material or additional users. Administration menus are provided to illustrate the features available but are not functional. Courses provided are merely placeholders but will report scores and other SCORM data.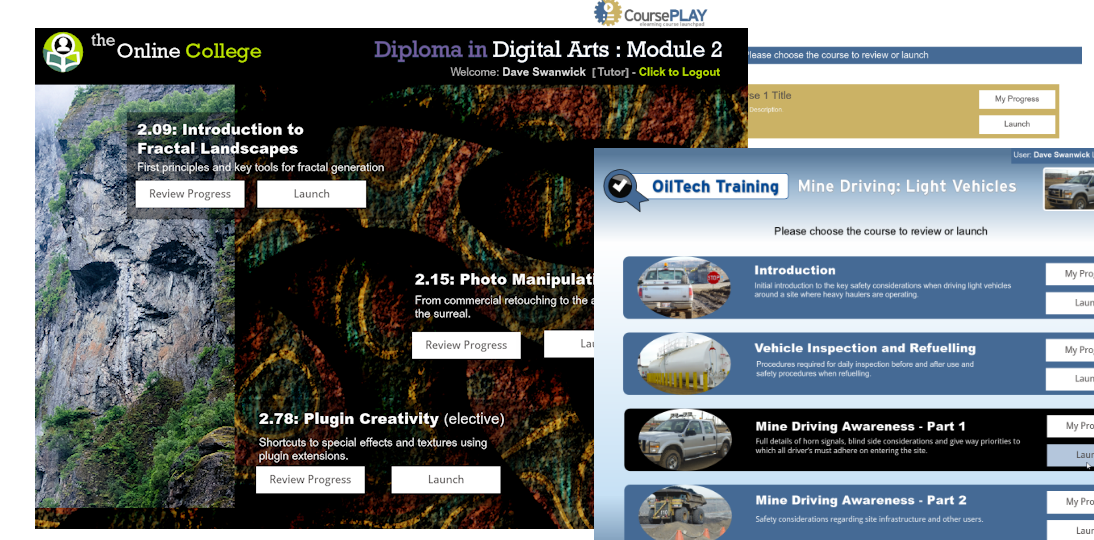 Standard Design and Layout
This demo version illustrates the basic templates provided by default with Opus Courseplay but these can be customised freely as illustrated above. The unique benefit of Courseplay is that you can manipulate and redesign these pages freely and add whatever functionality your solution needs.
A New Business Opportunity
Courseplay provides all the scripts and templates for you to design and build an course management system for own use or to licence to clients, for unlimited users for a one time fee - no head count, no subscription, no recurring costs.
Requires Opus Pro
CoursePlay interface elements are designed to be customised using Opus Pro, whilst it is possible to edit the HTML5 elements by hand we do not recommend it.
Important Licence Information
Each instance of CoursePlay is locked to a specific URL which you register during the setup process. You can use any number of courses and any number of users in a single CoursePlay LMS but if you want to create more than one LMS on different domains or licence it to clients, then you'll need an additional URL licence for each one.